Download the COVID-19 FAQ Sheet (PDF)
Truman Medical Centers/University Health (TMC/UH) has been at the forefront of COVID-19 testing. Now we're leading the way to safely distribute the vaccine to our community. We know you may have many questions so please check back regularly for updates about COVID-19 vaccine distribution.
Updated February 26, 2021:
COVID-19 VACCINE UPDATE:
Johnson and Johnson's COVID-19 vaccine has been endorsed by a panel of experts advising the Food and Drug Administration. Formal authorization could happen this weekend.
The FDA released a report about the single dose vaccine. The data were extremely positive.
Like the two vaccines that are already being administered in the U.S. — from Moderna and Pfizer — Johnson & Johnson's eliminated both death and hospitalization in its research trial: About 20,000 people received the vaccine in the trial, and not a single one was hospitalized with Covid-19 symptoms a month later.
"It does not get any better than 100% efficacy preventing hospitalizations and deaths," said TMC/UH Executive Chief Clinical Officer Mark Steele, MD. "These results are extraordinary. I definitely would recommend it for friends, my family, and myself and for anyone eligible to receive the vaccine."
The Johnson & Johnson vaccine also substantially reduced the number of moderate and asymptomatic Covid cases. A sharp reduction — and sharper reduction in severe cases — can eventually turn this terrible coronavirus into yet another manageable virus.
A key advantage of the Johnson & Johnson vaccine is that it requires only one shot, making it easier to administer than the Moderna and Pfizer vaccines, which require two.
Truman Medical Centers/University Health administers doses that are provided by the State of Missouri. At this point, we do not know when we will receive a shipment of the single dose vaccine from Johnson and Johnson.
Missouri Governor Mike Parson announced plans to begin the next phase of the vaccine rollout on Monday, March 15, 2021. Phase 1B – Tier 3 includes the list of individuals who "keep the essential functions of society running."
The list includes the following groups:
Education (K-12)
Childcare
Communications Infrastructure
Dams Sector
Energy Sector
Food & Agriculture Sector 1
Government
Information Technology
Nuclear Reactor Sector
Transportation Systems
Water and Wastewater Systems
Truman Medical Centers/University Health is aware of the demand for the COVID-19 vaccine. We understand the community's interest in the vaccine and ask for your continued patience at this time. We are currently focused on reaching out to our eligible patients to schedule vaccine appointments, starting with those who are 65 and older as doses become available.
When you will be able to receive the vaccine depends on the supply coming to Truman Medical Centers/ University Health. We are working hard with the doses we receive to get as many people scheduled and vaccinated as quickly as possible. We will reach out to you when we are able to schedule your vaccine.
Register for the Vaccine Waiting List

Call 816-404-3280
TMC/UH continues to vaccinate its staff and is now working through the second dose of the vaccine. In the meantime, we also continue to help patient-facing medical staff within the community by sharing the vaccine with more than 20 organizations that need it. When patients receive their first dose, they will be scheduled on the spot to receive a second dose three weeks later.
Why should I get the COVID-19 vaccine?
Should I get the COVID-19 vaccine now or can I wait to see how others react to the vaccine? Now is the best time to get the vaccine because the pandemic is at its peak and 2,500 lives are lost every day in the U.S. due to COVID-19.Two large trials with more than 70,000 combined participants have shown that mRNA COVID-19 vaccines are highly protective with only brief mild side effects. Health experts say the benefits of the vaccine far outweigh those mild side effects.
When can I get the vaccine?
The COVID-19 vaccine is being distributed in phases determined by the state of Missouri. Currently, the vaccine is available to:
Phase 1A – Long-Term care facility residents and staff, patient-facing healthcare workers, and EMS
Phase 1B Tier 1 – First responders, emergency services, and public health workers
Phase 1B Tier 2 – High-risk individuals including people over 65 and those with comorbidities
*Source: Missouri Department of Health and Senior Services
Click here for a full list of the different phases of the vaccine rollout.
How do I get the vaccine?
TMC/UH staff members meet regularly to plan for a safe distribution to the public. We will follow the federal and state government guidelines on distribution in the coming weeks or months. Please continue to check this website for updates or register for the vaccine waiting list.
What information do I need to provide to get vaccinated?
Once you have a scheduled appointment, please bring your photo ID and insurance card if you have one. When you return for your second dose, please bring your vaccine card, along with your photo ID and insurance information.
What is in the vaccine?
What is an mRNA vaccine? mRNA stands for "messenger ribonucleic acid" and it encodes the instructions for your body to make a specific protein (Spike protein) on the surface of the SARS-CoV-2 virus. When your body makes this viral protein, your body develops antibodies to it. These antibodies protect you if you later encounter the virus.
The Pfizer COVID-19 vaccine trial with over 40,000 participants resulted in a 95-percent effective rate against COVID-19 beginning 28 days after the first of two doses of the vaccine. Pfizer reports the vaccine was well tolerated with headache and fatigue as the most common side effects. For the latest on the Pfizer vaccine visit pfizer.com.
The Moderna Phase 3 COVID-19 vaccine trial with 30,000 participants of its two-dose vaccine resulted in a 94.1% efficacy against COVID-19 and 100% efficacy against severe COVID-19. Moderna reports the most common side effects as being headache, fatigue, and pain, and redness at the injection site. For the latest on the Moderna vaccine visit modernatx.com.
Can the COVID-19 vaccine give me COVID?
Is there live virus in the vaccine? None of the COVID-19 vaccines have live SARS-CoV-2 virus. The mRNA vaccines cannot give you or anyone else COVID-19. The vaccine does not make you contagious.
Will the COVID-19 vaccine make me test positive for COVID-19 if I am tested after being vaccinated?
No. The vaccine will not cause you to test positive on viral tests for COVID-19 infection. The vaccine will likely cause you to test positive for antibody tests (also called serology) since the vaccine helps build antibodies to COVID-19.
Should I worry that the vaccine was made so quickly?
No. All vaccines going for approval must meet high U.S. standards of safety. The COVID-19 vaccines for the U.S. were supported by government funds to speed up: trial enrollment, so the trials could quickly enroll tens of thousands of participants; manufacturing, to increase manufacturing sites and employees; and distribution, to enable produced vaccines to be shipped rapidly around the U.S. and worldwide.
What is the difference between Emergency Use Authorization (EUA) status and full FDA (Food and Drug Administration) approval for a vaccine?
When a vaccine has proven effective in a trial with 2 months of post-vaccine safety data, it can apply for EUA status. In order to apply for full FDA approval, 6 months of post-vaccine safety data is required. Both mRNA vaccines have reported outstanding safety data with no serious side effects.
Am I protected as soon as I receive the vaccine?
Can I stop wearing a mask? No. You should follow all policies, protocols, and public health orders related to COVID-19. Experts believe that 70% of the population needs to be vaccinated before the pandemic will be over.
What side effects do the vaccines have? Do I have to do any planning?
There may be side effects that feel like the flu, but that doesn't mean you are infected or contagious. Instead, it means that your body is successfully generating an immune response to provide you protection. Get your vaccine when you don't have anything important planned in the next day or two, just in case you experience side effects.
What if I get the first dose and then don't want the next dose?
Even though the overall data suggests some benefit after the first dose, you should plan to receive a second dose for the best protection against COVID-19.
What if I missed my second dose? Can I get it late?
Try to be on time with your second dose because the data on vaccine benefit was based upon a fixed number of weeks between doses (3 weeks between Pfizer doses; 4 weeks between Moderna doses). If you are late, you should still receive the second dose.
I already had COVID-19. Am I supposed to get the vaccine?
Yes. If you have had COVID-19, you should still receive the vaccine. Don't receive the vaccine while you are infected, but after you recover and return to normal activities, you can and should receive the vaccine.
If I have allergies to food or medication, should I worry about having an allergic reaction to the vaccine?
Having a significant allergy to a food or medication does not necessarily mean that you are at higher risk for an allergic reaction to the COVID vaccine. For individuals who have serious allergies, please consult with your doctor.
How much will the vaccine cost?
If you have Medicaid, Medicare, or the TMC gold or purple card or if you are uninsured, there will be no cost to you. Most private insurance carriers are covering the COVID administrative fee with no cost to consumers. To confirm you should check with your insurance company first.
Is there any way to protect myself from the new strain of COVID-19 that made its way to the U.S. from England?
Mark Steele, M.D., Executive Chief Clinical Officer at Truman Medical Centers/University Health, explains that it is not unusual for a virus to mutate or change. While we continue to learn more about this new strain, Dr. Steele said it does not appear to be more deadly than the original. He urges everyone to continue to wash hands, wear a mask, and maintain social distance. "The good news is if we continue to practice infection control measures, we should be able to keep it under control as well," said Dr. Steele.
Should I take anything like Tylenol or ibuprofen before getting the vaccine dose?
At this time, it is not known for certain if taking an over-the-counter medication such as Tylenol or ibuprofen prior to the shot will somehow impede its effectiveness. The best time to take any over-the-counter medication is if you develop symptoms after you receive the vaccine. However, if you regularly take these types of over-the-counter medications for other medical conditions, please continue to do so as recommended by your doctor or as needed.
Other Video Content

Jackson County Executive Frank White and wife Teresa received their COVID-19 vaccine at TMC/UH. Watch as Mr. White explains why taking this step is important to him, his family, and the Jackson County community.
As you wait for your opportunity to receive the vaccine as outlined by the state and federal governments, you may still have questions or concerns. Please take a moment to watch some TMC/UH staff members explain why they decided to receive the shot.
Should pregnant women get COVID-19 vaccine? Kansas City OB-GYN weighs in.
Dr. Devika Maulik of TMC and Children's Mercy lays out the pros and cons of the vaccine for pregnant women.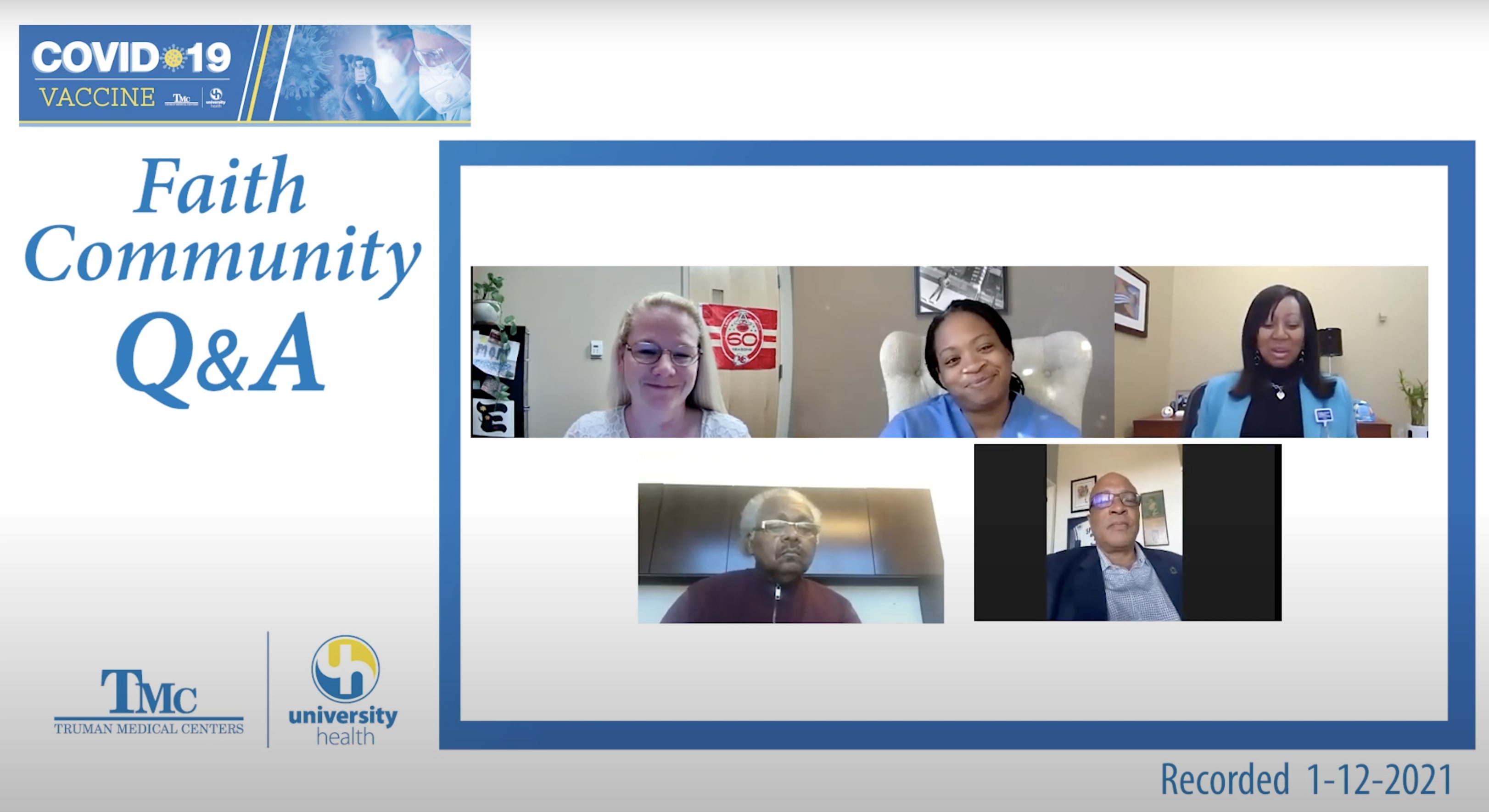 Faith Communities Town Hall
Truman Medical Centers / University Health is working to provide accurate information to you about the COVID-19 vaccine. This week, we gathered a group of our physicians, a financial advisor, and a local pastor for a virtual town hall. The group addressed important questions provided by church leaders and their members in our faith communities. To watch the town hall in its entirety, click here.
If you have additional questions about the vaccine click here to get more information from the Missouri Department of Health and Senior Services.