President and CEO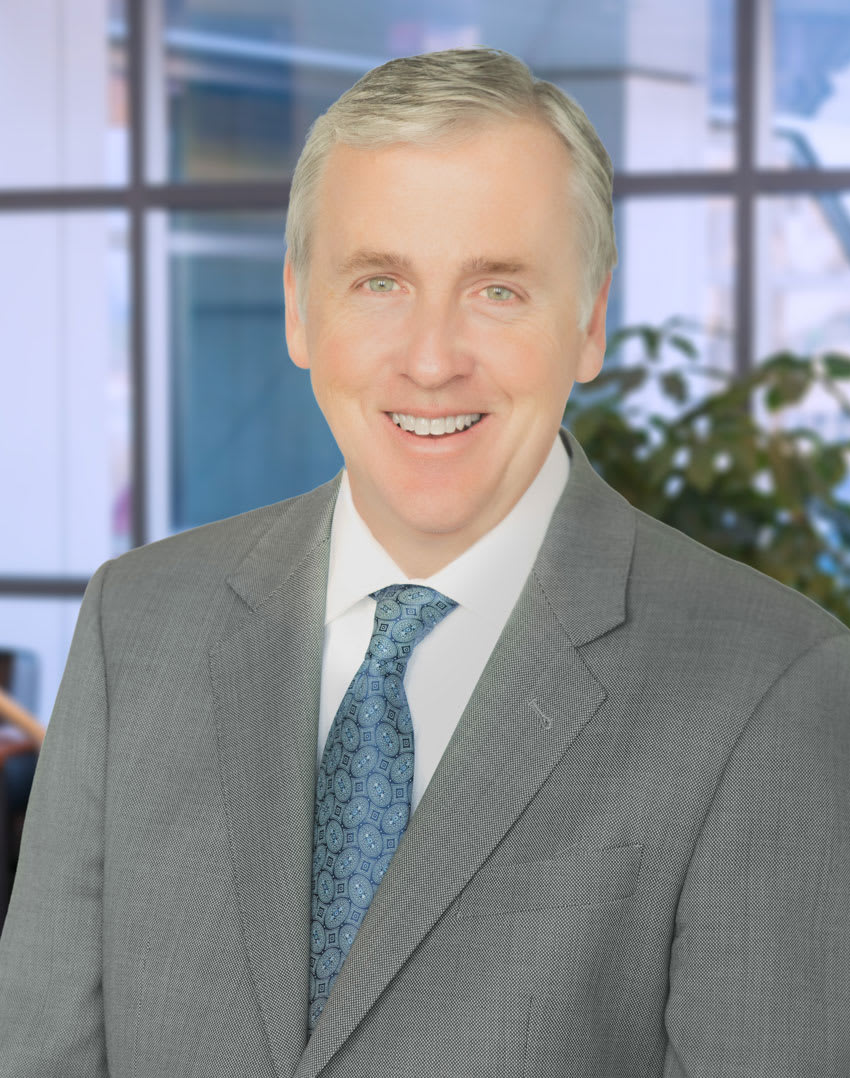 Charlie Shields serves as president and chief executive officer of Truman Medical Centers/University Health. Shields joined the system in 2010 as chief operating officer of Truman Medical Center Lakewood. He assumed his current role in 2014.
Shields brings to the role more than 25 years of healthcare leadership and decades of public service, including 20 years in the Missouri General Assembly, culminating his service with two years as president pro-tem of the Missouri Senate.
Shields strongly believes Truman Medical Centers/University Health exists for two reasons: 1) To serve as Kansas City's essential hospital, providing quality care to those with the very best insurance and those with no insurance at all. 2) To serve as an academic medical center, preparing the doctors, nurses, dentists and pharmacists of the future, and taking on the toughest cases.
With those two missions in mind when making all decisions, including the best path for the growth of Truman Medical Centers/University Health, Shields often has said, "Healthcare doesn't always have to happen within the four walls of a hospital."
During Shields' tenure, much of the system's clinical growth has occurred outside of the Health Sciences District and Lakewood hospital facilities.
University Health 1 changed the look of outpatient care at Truman Medical Centers/University Health with a light and bright specialty and surgery center overlooking downtown. University Health Women's Care expanded the organization's ability to serve women in eastern Jackson County. Truman Medical Centers/University Health opened University Health On the GO! clinics in area Hy-Vees. Now, that growth continues with University Health 2 making primary and women's care more accessible downtown.
Within those four walls, Shields has worked to make sure Truman Medical Centers/University Health patients are seen in areas that reflect the extraordinary care they receive. More private rooms are being added, The Birthplace is receiving a long overdue update, and the Neonatal Intensive Care Unit is more than doubling in size.
During his tenure at TMC Lakewood, Shields oversaw significant change and growth, including opening the Lakewood Family Birthplace.
Shields shared his expertise when he served as president of the Missouri Hospital Association. He is often quoted saying, "Education is the number-one determinant of economic status, and economic status is the number-one determinant of health status," bringing together the importance of education in living a long and healthy life. With this as a foundational belief, he serves as president of the Missouri State Board of Education. He is also deeply involved in and proud to serve the Kansas City community, holding leadership positions with the Greater Kansas City Chamber of Commerce, the Kansas City Civic Council and the Urban Neighborhood Initiative.
Finally, Shields is a founding board member of the UMKC Health Sciences District, a collaboration between Truman Medical Centers/University Health; UMKC schools of Medicine, Pharmacy, Nursing and Dentistry; Children's Mercy Hospital; the Kansas City Health Department; and other entities, creating a true academic health center investing in research, advancing intellectual collaboration and developing a space for health innovation unlike any other in the region.
Executive Chief Administrative Officer
Mitzi Cardenas is a healthcare executive with more than 30 years of experience in the industry. She currently serves as the executive chief administrative officer for Truman Medical Centers/University Health with oversight of corporate administrative operations and services, including construction and real estate, strategy and planning, and information systems and technology.
Since arriving at the organization in 2008, Cardenas has led the efforts to bring it into the forefront as a front-runner in the use of leading-edge technology and innovation to improve patient safety and quality of care. From this effort, Truman Medical Centers/University Health recently earned its sixth consecutive "HealthCare's Most Wired" designation, as well as the prestigious Stage 7 designation from HIMSS Analytics (top 2% of worldwide hospitals). Truman Medical Centers/University Health is now one of only four two-time HIMSS Davies award winners, an internationally recognized honor for exceptional use of technology to improve quality of care. In addition, Cardenas has led the planning and oversight of major construction projects and facility improvements, resulting from a comprehensive strategic planning process and the plan developed for the organization.
Cardenas also has received recognition by Ingram's magazine as a "Hero in Healthcare" for the work Truman Medical Centers/University Health completed to use technology to achieve excellent health outcomes across the Kansas City community. In addition, she has been named as one of the Most Powerful Women in Health IT by Health Data Management for two years in a row, and in 2019 was named one of 25 female business leaders in "Women Who Mean Business" by the Kansas City Business Journal.
Since 2014, Cardenas has served as the chair of the American Hospital Association's Interoperability Advisory Group. She also served as the chair of the Missouri Hospital Association's HIT Committee. She played an integral role as a member of the board and executive committee for the Lewis and Clark Health Information Exchange, as well as several national advisory and vendor committees. She currently serves on the board of trustees for Park University and on the executive committee and board of the KC YMCA.
Before joining Truman Medical Centers/University Health, Cardenas held leadership roles in a pediatric academic medical center, the military health system and a multi-hospital healthcare delivery system. She received her bachelor's degree in business administration from the University of Texas at Arlington and a Master of Science from Troy State University.
General Counsel
Bill Colby began his law practice in 1982 in Washington, D.C., as a clerk for the U.S. Court of Appeals and then in the Washington, D.C., office of Davis Polk & Wardwell. In 1985 he moved to Kansas City, Missouri, and joined Shook, Hardy & Bacon. Throughout the years, he has represented large corporate clients, as well as individuals, in a wide variety of matters in courts across the U.S.
From the late 1980s into the 1990s, he represented several Missouri families in disputes over an issue that is popularly known as the "right to die." Most well-known was the case of Nancy Cruzan, in which Colby argued before the Missouri Supreme Court and U.S. Supreme Court, ultimately establishing the federal constitutional right to refuse unwanted medical treatment.
Colby has spoken extensively on these medical legal issues in both the national broadcast and print media, and has been the featured speaker at a variety of meetings, including the American Bar Association and the Aspen Institute. He also published two critically acclaimed books, Long Goodbye: The Deaths of Nancy Cruzan (Carlsbad, CA, Hay House Inc. 2002), and Unplugged: Reclaiming Our Right to Die in America (New York, AMACOM 2006).
Colby has a bachelor's degree in creative writing from Knox College ('77) and graduated as valedictorian from the University of Kansas School of Law in 1982.
Chief Community Relations Officer
As chief community relations officer, Niki Lee Donawa is an expert in community building. She provides strategic direction in community health education, along with workforce and strategic partnership development, in order to position Truman Medical Centers/University Health—a two-campus safety-net healthcare system—as a leader in creating sustainable models to improve the health of the community. Donawa also is responsible for the management of contracts for Walgreens and Morrison's Food Service; both provide a unique opportunity to enrich the healthcare experience for patients, guests and staff.
Donawa was appointed to the Federal Reserve Bank of Kansas City on Jan. 1, 2019, and is a member of the Women's Executive Leadership Council of the Greater Kansas City Chamber of Commerce. She has served in various roles on the Health Forward Community Advisory Council, most recently as the chair of the council, and a member of the American College of Healthcare Executives. Other community service commitments include the DESE Legislative Committee for Trauma Informed Schools Initiative; University Health Linwood YMCA Advisory Committee; Greater Kansas City Chamber of Commerce Workforce Planning Committee; vice chair of ArtsKC; the American Jazz Museum Board of Directors; and the Jackson County Chapter Links Incorporated Executive Committee. Donawa is the recipient of the Black Healthcare Coalition's Health Equity Award, celebrating individuals who are working to achieve healthcare equity in the Kansas City area.
She received her bachelor's degree from the University of Central Missouri and her MBA from Baker University.
Chief Operating Officer, Behavioral Health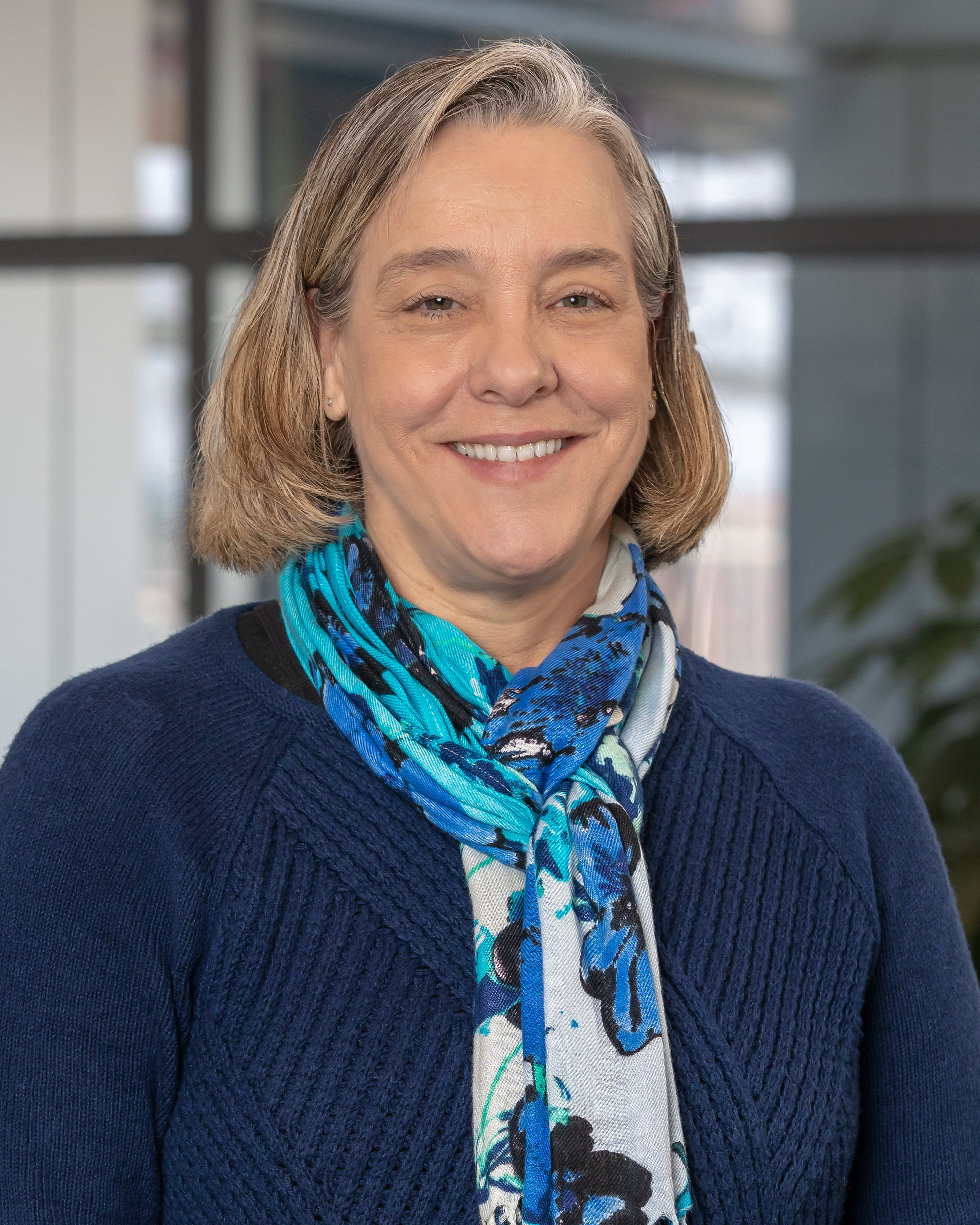 Sharon Freese, RN, BSN, MSW, provides leadership for the Truman Medical Centers/University Health Behavioral Health division, including clinical services, staff competence, financial viability, customer satisfaction and client safety for hospital- and community-based services.
Freese has more than 25 years of nursing, mental health and healthcare leadership experience; she has served the last 26 years with the Behavioral Health division in a variety of roles including clinical nurse manager, director of nursing, associate administrator of inpatient services and, most recently, associate administrator for behavioral health quality, patient safety and risk management.
Prior to her service with Truman Medical Centers/University Health, she served as a registered nurse at two hospitals in Indiana. She later worked as a nurse and community mental health supervisor with Central Kansas City Mental Health Services, which merged with TMC Behavioral Health in 1997.
She earned her Bachelor of Science in Nursing from Purdue University and went on to earn her Master of Social Work from the University of Missouri – Kansas City. Freese also is a Lean Six Sigma Black Belt.
Chief, Health Policy and Government Relations
As the chief health policy & government relations officer, Gerard J. Grimaldi leads policy development and government strategies at the federal, state and local level and is responsible for government grants.
Grimaldi currently serves on the MO HealthNet Oversight Committee. He is an active leader in local, state and national hospital and healthcare organizations. Recognized for his expertise in safety-net healthcare financing and delivery, Grimaldi's advocacy skill has achieved numerous career accomplishments. He was a key strategist in the successful campaign for Kansas City, Missouri, funding for healthcare and emergency services in 2005, along with its 2013 renewal that achieved a 76% yes vote.
His civic and community leadership includes serving on the board of directors of the Downtown Council. He has chaired the Jackson County Community Mental Health Levy Board of Trustees and the Bannister Federal Complex Community Advisory Panel, and is a past chair of the Government Relations Committee of the National Association of Public Hospitals.
Previously, Grimaldi was Kaiser Permanente's vice president of strategy and human resources in the Kansas City market. Early in his career, he was a U.S. Senate and U.S. House of Representatives staffer. As a congressional staff director, he helped achieve many area economic development, healthcare, housing and other accomplishments, including Blue River/Brush Creek flood control, Bruce R. Watkins Drive, and the establishment of the Harry S Truman National Historic Site.
A Kansas City, Missouri, native, Grimaldi graduated from the University of Missouri – Columbia School of Journalism. He and his wife, Julie, are the proud parents of four children.
Chief Medical Information Officer
Corporate Medical Director - Quality
As the chief medical information officer, Jeffrey Hackman, MD, FACEP, is the liaison between the medical staff and information technology. In this role he provides clinical leadership to the team supporting the Truman Medical Centers/University Health electronic medical record, helps set priorities for upcoming projects, and is the primary "translator" between physicians and IT professionals.
As the medical director for quality, Dr. Hackman has corporate responsibility for such varied areas as patient safety, accreditation, infection prevention and control, case management, performance improvement, utilization management and social work services. Dr. Hackman has been in this role since November 2015.
He received his bachelor's and medical degrees from the University of Missouri-Kansas City. He completed a residency in emergency medicine before joining the faculty at Truman Medical Centers/University Health. He is board-certified in emergency medicine and clinical informatics.
Chief Financial Officer
Chief Financial Officer Marga Hoelscher is responsible for supply chain management, corporate financial accounting, revenue cycle, decision support, third-party reimbursements and contracting, as well as the development of new and innovative payer relationships to better serve patients. She also assists with government relations activities at the State Capitol advocating for Truman Medical Centers/University Health patients in the ever-changing world of healthcare reform.
Hoelscher came to Truman Medical Centers/University Health in July 2017 with more than 30 years of state government experience working for both the executive and legislative branches of state government. In 2008, she became the CFO for Missouri's Medicaid program, later becoming the deputy director. As CFO, she was responsible for managing MO HealthNet's $7 billion budget and worked to enhance hospital revenues by developing financing opportunities and state/local/hospital partnerships. Hoelscher focused on maximizing and defending provider taxes, and crafting and negotiating Centers for Medicare & Medicaid Services waivers and state plan amendments.
At Truman Medical Centers/University Health, Hoelscher has served as vice president of managed care and associate CFO before being appointed CFO on Jan. 1, 2020.
Hoelscher graduated from the University of Central Missouri with a degree in business administration and from the University of Missouri with a Master of Public Administration. She is a licensed CPA and a 2018 American Essential Hospital's Fellow.
Chief Marketing Officer
As chief marketing officer, Nancy Lewis provides leadership in the areas of strategic communication (internal communication with more than 4,500 staff members, external communication with the community, and patient communication), branding, marketing and media relations. She has taken the department in a new direction, with an expanded focus on data-driven marketing, price transparency and patient communication. She and her team launched the University Health brand in 2015, highlighting Truman Medical Center's role as an academic medical center in partnership with UMKC. The brand now applies to University Health 1, downtown's only freestanding specialty and surgery center, University Health On the GO! clinics in area Hy-Vees, and University Health Community Care outpatient clinics in downtown and eastern Jackson County. University Health 2, a primary care and women's health medical office building, opens in 2020.
Lewis has more than 25 years of public relations, marketing and media experience. As director of public relations and communication for the Independence School District, she worked hand in hand with the superintendent to achieve strategic goals for district improvement. She oversaw all internal and external communication, and worked on promotion and development of community-wide projects. Her public relations team won a national Hermes Marketing award for media relations, competing against Fortune 500 companies and international marketing firms.
Prior to service with the Independence School District, Lewis worked for nearly two decades in television journalism, including 14 years as a special projects reporter/anchor with WDAF-TV in Kansas City, Missouri, where she won multiple Emmy Awards for her investigative and in-depth reporting. She was part of the special projects team that launched the "Problem Solvers" unit.
Chief Diversity and Inclusion Officer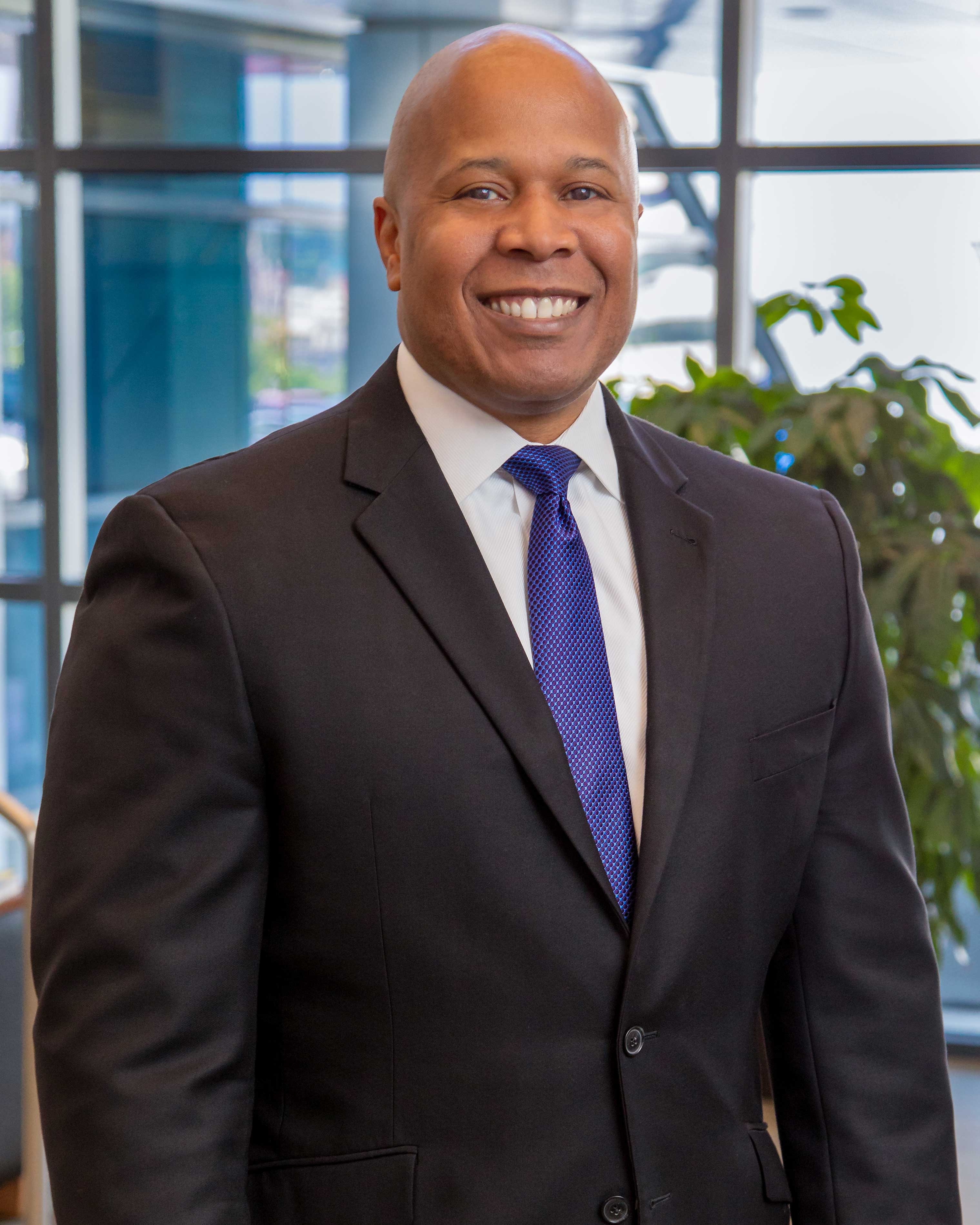 As chief diversity and inclusion officer, Willy F. Pegues IV, MBA, is responsible for promoting a culturally inclusive environment where all patients, guests and workforce members are welcomed. He partners with the human resources leadership team in developing goals and objectives in support of growth in diversity of the talent pool and pipeline, while supporting the overall mission of the organization.
Pegues' leadership roles at Truman Medical Centers/University Health include associate administrator for women's health (2014-2016), director of primary medicine (2011-2014) and manager of IT (2006-2011).
Corporate Chief Nursing Officer
Corporate Chief Nursing Officer Amy Peters, RN, BSN, MBA, began her career at Truman Medical Center Health Sciences District (TMC HSD) in 1994. After completing nursing school, she worked as a staff nurse in the Surgical Intensive Care Unit before serving in a variety of nursing leadership positions. In 2008, Peters moved to Truman Medical Center Lakewood, where she served as the associate chief nursing officer followed by the role of interim chief operating officer. Peters returned to TMC HSD when she was promoted to corporate chief nursing officer in 2015.
As CNO, Peters has focused on advancing the patient experience for those receiving care at Truman Medical Centers/University Health; introduced Pathways to Nursing, a program to mentor high school students with career aspirations in nursing; developed a strong partnership with the University of Missouri – Kansas City School of Nursing; and a variety of other initiatives designed to improve safety and quality, as well as enhance the practice of nursing at Truman Medical Centers/University Health.
Peters graduated from the University of Kansas with a degree in biology; from Mid-America Nazarene University with a degree in nursing; and from Baker University with a Master of Business Administration. She serves on the board of the Missouri Organization of Nurse Leaders (region 2) and Zebra Technologies' Healthcare Customer Advisory Board. Peters recently was appointed to the Press Ganey CNO Advisory Council. She is also a Lean Six Sigma Black Belt.
Chief Human Resources Officer
In her role as chief human resources officer, Ruth Stricklen Pullins builds strategy around enhancing employee engagement, investing in corporate culture and inspiring the more than 4,500 employees at Truman Medical Centers/University Health. In addition, she serves as a strategic partner to the CEO regarding all human resources areas and is the chief negotiator and spokesperson for the organization in all management labor issues. Pullins creates a path for building future leaders and propelling the leadership team to its full potential. She continues to advance the diversity initiatives at Truman Medical Centers/University Health and believes in establishing a collaborative and high-integrity culture.
Prior to this role, Pullins was the chief human resources officer and plan administrator for the University of Kansas Physicians. In this position she had oversight of organizational and employee development; communication and strategy; and pension and employee benefits. Pullins also partnered with the physician practices in public relations and marketing initiatives.
She has a graduate degree incommunication studies from the University of Kansas; SPHR certification from the Human Resources Certification Institute; and CPLR Certification from the National Public Employer Labor Relations Association. She is an New York University-certified executive coach.
Pullins currently serves on the foundation board for Metropolitan Community Colleges, the board of Western Governors University and United Inner City Services of Kansas City, and supports the Boys and Girls Club of Kansas City. She formerly served on the National Parkinson Foundation Heartland Board and in a director role for the Kansas City Society of Human Resource Management. Pullins was named to the national Human Resources Executives HR Honor Roll in 2019.
Executive Chief Clinical Officer
University Health Physicians Executive Medical Director
UMKC School of Medicine Associate Dean for Truman Medical Centers/University Health Programs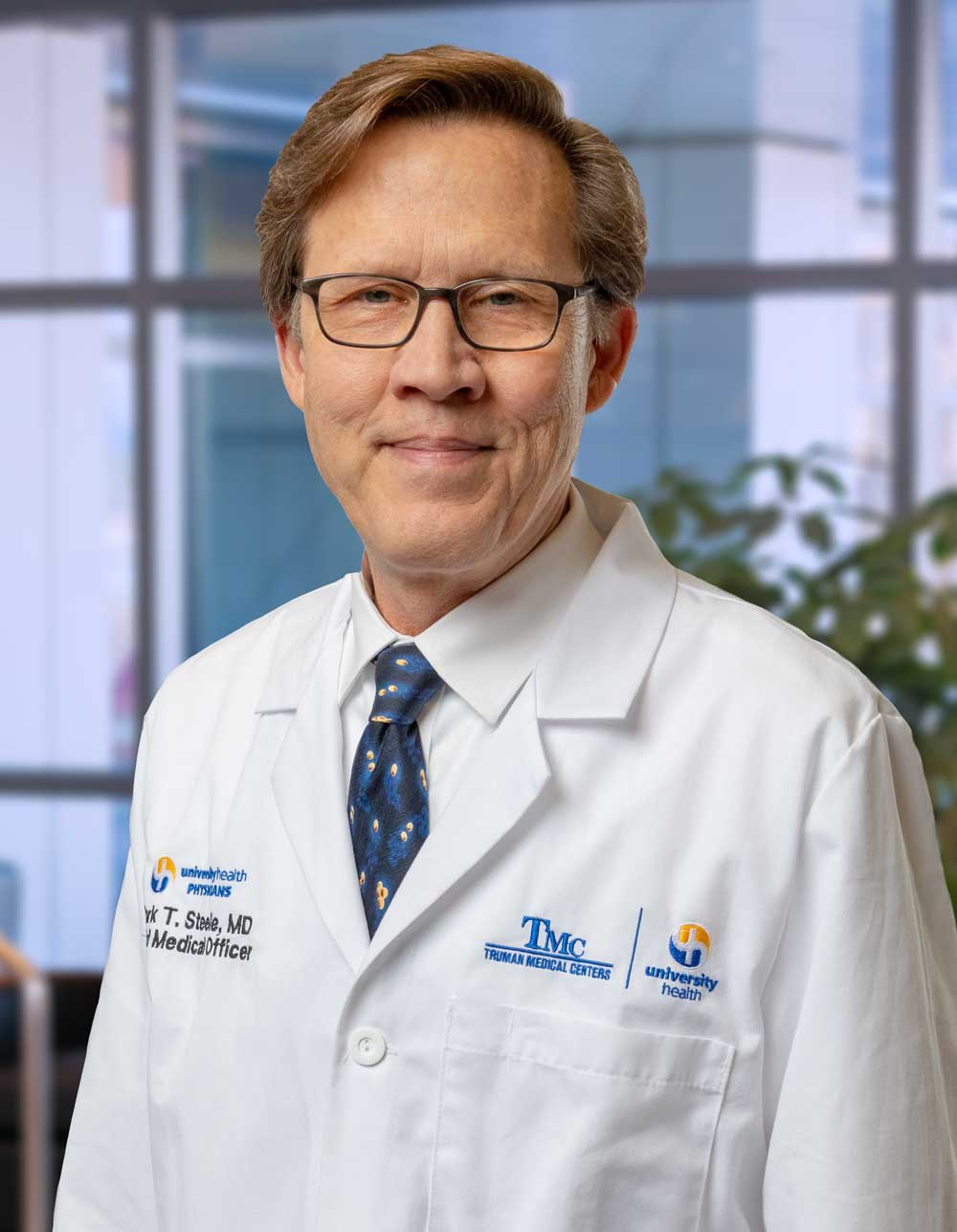 As executive chief clinical officer, Mark Steele, MD, is responsible for oversight and leadership for all clinical hospital functions.
Dr. Steele attended the University of Missouri - Kansas City (UMKC) School of Medicine's combined six-year medical program, where he received his BA/MD degrees. His emergency medicine residency was under the tutelage of W. Kendall McNabney, MD, at Truman Medical Center in Kansas City.
Dr. Steele has served on the faculty in the Department of Emergency Medicine at the UMKC School of Medicine/Truman Medical Center since his graduation from residency in 1983. In 1987, he was named vice chairman, program director for the Department of Emergency Medicine; in 1990, and again in 1997, he was named as chairman, Department of Emergency Medicine. He has risen through the ranks to his current positions. Dr. Steele holds the position of associate dean for Truman Medical Centers/University Health Programs at the UMKC School of Medicine, where he also is a professor in the Department of Emergency Medicine.
In 2002, Dr. Steele was named as one of Ingram's Top Doctors of Kansas City, and he received the UMKC School of Medicine E. Grey Dimond, MD, Take Wing Award, which was established in the name of the school's founder and is awarded to alumni for outstanding achievements in medicine. Other honors and awards include becoming a Fellow of the American College of Emergency Physicians in 1988, receiving the UMKC Alumni Achievement Award in 1990, being inducted as a faculty member into Alpha Omega Alpha honorary medical society at the UMKC School of Medicine in 1992, and receiving the UMKC School of Medicine Excellence in Medical Education award in 1992. Dr. Steele recently was recognized with Ingram's Heroes in Healthcare Lifetime Service Award.
Academically, Dr. Steele has more than 100 peer-reviewed publications. His interests have been in the areas of infectious disease, wound care, circadian rhythms, shift work, emergency medicine practice and workforce issues.
Dr. Steele's professional memberships include the Society for Academic Emergency Medicine, the American College of Emergency Physicians, the Missouri State Medical Association and the American Medical Association. In 2003, Dr. Steele was selected as a member of the board of directors for the American Board of Emergency Medicine (ABEM), where he also served as president. He currently serves as a senior director, an oral examiner and an ABEM item writer.
Truman Medical Center Lakewood, Chief Operating Officer
As Truman Medical Center (TMC) Lakewood chief operating officer, Lynette M. Wheeler, DNP, RN, LNHA, FABC, is accountable for the day-to-day operations and administration for TMC Lakewood and for the Jackson County Health Department.
Under the leadership of Wheeler, TMC Lakewood received Vizient's Bernard A. Birnbaum, MD Quality Leadership Award for community hospitals in 2017. This award recognizes superior quality and safety leaders nationally. In 2017, and again in 2019, TMC Lakewood received The Joint Commission Gold Seal for Advanced Certification for Total Joint Replacement Hips and Knees. The first metro area and first statewide hospital to receive this elite recognition, TMC Lakewood has also received certification for Total Joint Replacement Shoulders.
Wheeler oversaw the effort to expand orthopaedic services at TMC Lakewood through targeted recruitment of experienced orthopaedists and sports medicine specialists. In 2019, a new 8000-square-foot, dedicated Orthopaedic and Sports Medicine Center opened, offering patients access to an integrated service line of orthopaedics, orthopaedic-based sports medicine and family medicine-based sports medicine.
Wheeler serves as a board member for many area community organizations, including the Health Forward Foundation, Hope House, Greater Lee's Summit Healthcare Foundation Truman Heartland Community Foundation, and the Independence Chamber of Commerce. In 2018, she was named Woman of the Year in Eastern Jackson County by the Examiner.
She has consistently taken a leadership role in driving development of grant-funded training programs for certified nursing assistants. These collaborations between educational programs, community organizations and TMC Lakewood target workforce needs and employment opportunities in core communities in Eastern Jackson County.
Previously Wheeler served as TMC chief nursing officer from 2011 to 2015, responsible for all aspects of nursing service programs and standards of nursing practice, including competencies and compliance with accrediting and regulatory requirements regarding inpatient, ambulatory and specialty programs.
Wheeler graduated in 2016 with a Doctor of Nursing Practice in Organizational Leadership from Kansas University School of Nursing. She is a member of the American Nurses Association and the Missouri Organization of Nurse Leaders.
Most recently Wheeler received her Missouri license as a nursing home administrator in order to better serve the residents in the Lakewood Care Center. This long-term care facility opened in 1908 and is the oldest service on the TMC Lakewood campus.
Director, Internal Audit and Compliance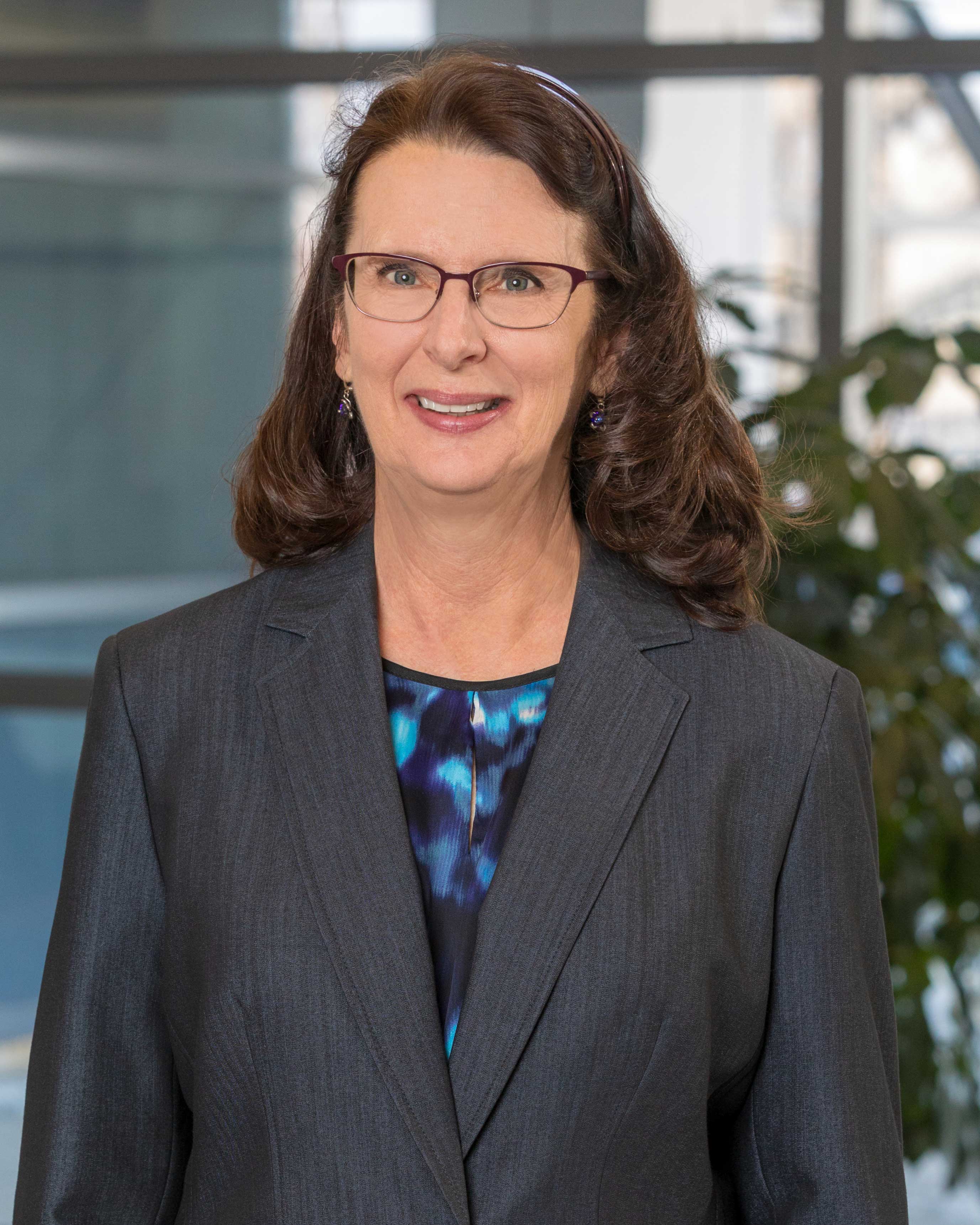 As director of Audit & Compliance for Truman Medical Centers/University Health, Barb Zubeck's responsibilities include oversight for compliance, internal audits and patient privacy. She is responsible for auditing financial statements, ensuring compliance with laws and regulations, providing compliance training and education, and analyzing operating processes for effectiveness and efficiencies.
Zubeck has more than 35 years of financial and auditing experience with healthcare organizations and 15 years of experience in the compliance and patient privacy industry.
Prior to joining Truman Medical Centers/University Health in 2004, Zubeck served as internal audit manager for CHAN Healthcare Auditors, where she was responsible for the establishment of the audit function for Carondelet Health System, which included St. Joseph Health Center and St. Mary's Hospital of Blue Springs.
Zubeck also worked as director of internal audit for Health Midwest for 15 years, where she trained and supervised audit staff for the 13-hospital system; managed multiple audits at various locations; and ensured the accuracy of financial data and the efficiency and effectiveness of departmental operations. Zubeck also was a senior auditor for KPMG, LLP, one of the big four accounting firms.
She graduated with honors from University of Missouri-Columbia with a Bachelor of Science in Accounting. Zubeck is licensed as a Certified Public Accountant and a Certified Internal Auditor.